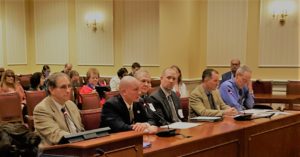 The State Lakes Protection and Restoration Fund bill was heard in the Senate Education, Health and Environmental Affairs Committee on Feubrary 14, 2017. Senator Edwards ( left position on panel) gave overview of bill and need for a Fund for the 15 state owned lakes. Commissioner Paul Edwards,( next to the Senator) gave the Committee the support for the bill from the Garrett County Board of Commissioners.
The Friends of DCL Panel provide in-depth rationale for the Fund. Brian Greenberg ( blue shirt) spoke of the dynamics of lake aging and decline as seen at Deep Creek Lake and manifested in all state owned lakes. Tony Fuller and Joe Zamoiski ( next to Brian) talked of their experiences living in Green Glade Cove, one of the 10 sediment impaired coves at DCL, with Joe highlighting the economic impacts of aging including loss of property value, tax revenues and threats to lake-related businesses.  Richard Matlick spoke representing A CLEAR DCL and the growing responses from lake owners, the formation of an alliance of the 500 plus HOAs, businesses, neighborhood groups and individuals in the impaired coves. He reported about meetings of this group, the recent Community Forum on models of lake dredging and recent decision to hire an environmental firm to conduct water quality sampling in the 10 coves, since DNR is not doing this monitoring.
Barbara Beelar, no in photo, spoke of the necessity for state financing of these lakes. Only DCL has lake property owners. The lake remediation are big ticket items– for dredging and retention mechanisms to slow additional sediment accumulation; shoreline and riparian stabilization, control of run off and storm water, prevent of introduction of aquatic species and installation of cleaning station, and upgrade of the aging sewer and septic systems. The state owns these lakes and are ultimately responsible for their sustainability.
The last presenter was Kristen Harbeson, Political Director from the MD League of Conservation Voters. She expressed her organization's support for the bill and the need for state action for these important water bodies. Both the Sierra Club and The Nature Conservancy provided letters of support along with the Garrett County Board of Realtors, the Garrett County Chamber of Commerce. the Town of Friendsville, the DCL POA and close to 50 lake property owners.
The next hearing is on the House side on 2/22 starting at 1 p.m.
To learn more about the issue, please view the PowerPoint presentation prepared for the EHEA hearing SB396Presentationfinaluse as well as the statement from Friends of DCL Board submitted to the public record. SB396FoDCLstatement.